"This is an 8-week on-line course available on DailyOM, from tarot experts Amy Zerner and Monte Farber. We will email you when each new lesson is available
and you will be able to login and read each lesson online or print and
click to watch the different tarot featurettes accompanying each lesson.
Your first lesson will be available immediately after you enroll."
And you can pay whatever you want - from $1 on up!

"To authors Amy Zerner and Monte Farber, tarot cards were the first
search engine: you ask your question as you shuffle, you pick a card,
and the picture on that card contains the answer to your question,
no matter which tarot deck you choose (actually, as you'll see in
Lesson One, a tarot deck sort of chooses you!) And just like with Google,
you have to know a little about interpreting the answers to your query.
That's where their brand new, fast, fun and easier-than-easy to use Zerner/Farber Method comes in - and it's only available from DailyOm.com!"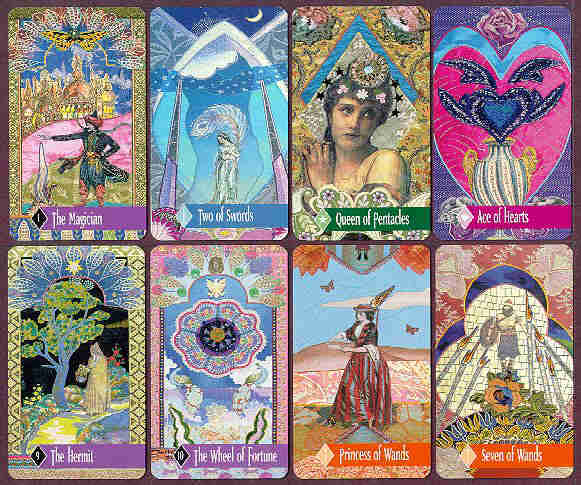 images from the Zerner/Farber Tarot Deck (c) Amy Zerner & Monte Farber
If you can look at a picture and read, then you can read tarot cards!
The Zerner/Farber Tarot Teaching Method is simple, yet profound
"Monte and Amy have created a beautiful and powerful system that reveals the mystery, magic, and meaning of the Tarot. Theirs is my favorite contemporary deck, and I use it often."
--- Marianne Williamson, author of Return to Love
Starting with Lesson Two, you will actually be reading tarot cards like a pro, thanks to the amazing Zerner/Farber Tarot Teaching Method. For the first time in the centuries-long history of the tarot, all of the 78 cards of your tarot deck have been interpreted for you, the meaning of each card delineated and phrased as direct answers to the following questions, with a whole lesson
(and a whole set of 78 answers!) devoted to answering each question:
The Major Arcana: The Spiritual Principles
The Minor Arcana: Guidance for Daily Life
Cups - All About Love and Emotions
Pentacles - All About Wealth and Success
Wands - All About How to Take Action
Swords - All About Dealing With Adversity
"Give me a message about (my situation, my job, my finances, my friend, my family member, my partner, my child, etc.)."
"What is blocking me from attaining my goal?"
"How should I present myself to (the world, my boss, a prospective partner, my family, my spouse, my child(ren), my coworker(s), my team, etc.) to best accomplish my goal?"
"How am I perceived by the other person(s) involved in my situation?"
"Tell me what I need to know about (that situation, future event, my partner, my friend, my child, my relative, my meeting, my date, my class, my test, my co-worker, my boss, etc.) for my highest good and greatest joy."
"What aspect of life shall I meditate on today?"
"What can I expect to happen in the next few weeks (if I stay true to myself and my plan of action?)"
In the same way that the tarot contains everything you need to know about living a successful life, this 8 week course contains
everything you need to know to read tarot cards like a pro.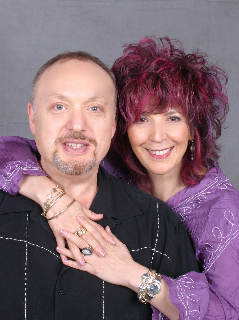 "Amy Zerner and Monte Farber are two very special souls on this planet.
They assist all of us in reminding us of our true spiritual nature.
They are the only two practitioners I have met who are able to bring the
teaching of truth in ALL of their divinely led creations."
--James Van Praagh, author of Ghosts Among Us & Talking To Heaven
"We use our tarot decks every day whenever we have a question.
Reading tarot cards has enabled us to find our soulmate, satisfying careers,
and the kind of well-balanced, soul-directed life that most people, even
the rich and famous, only dream of finding, and with our new ultimate
tarot method you can have it, too! And if you think you can't, then
you really need this course!"
NEW
JUST IN TIME FOR VALENTINE'S DAY -
AMY ZERNER'S JEWELRY WEBSITE!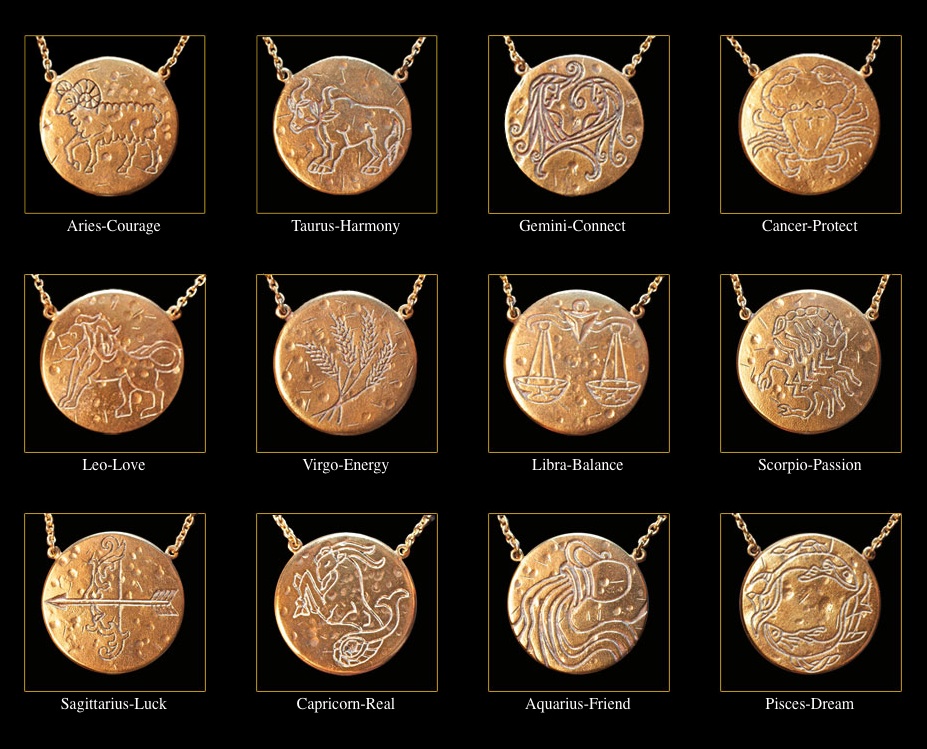 Artful attention to symbols, details, stories and spirituality are reflected in Amy Zerner's inspiring jewelry designs. Amy is an experienced astrologer, as well as a couture fashion designer. All of her pieces represent her signature style and offer the prospect of hope, protection and good fortune. Look for the myth and magic
in each adornment and feel their meticulous craftsmanship and enduring charm.
Available exclusively at Bergdorf Goodman in NYC or on AmyZerner.com
Please use code "15OFF" for a 15% discount to Amy & Monte's friends & fans!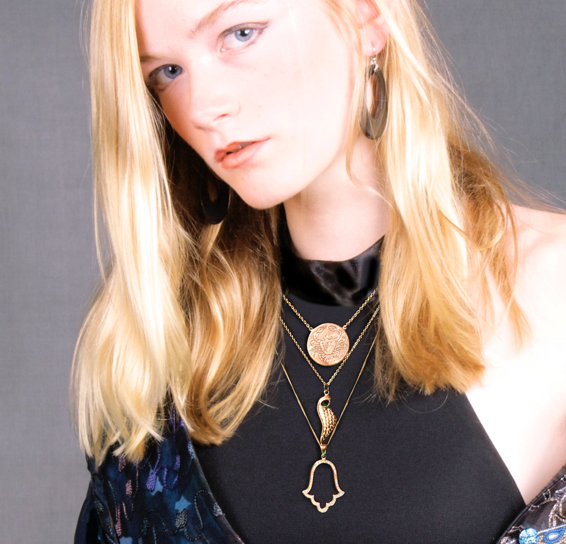 Amy wll be presenting her collection at Bergdorf Goodman in NYC on their fifth floor from 2-7 pm on Thursday, February 10th, just
in time for Valentine's Day gift-giving! If you haven't already,
now is the time to start thinking about Valentine's Day.
"Amy Zerner and Monte Farber are emissaries of enchantment. Their beautiful work reflects the magic in the world."
---Judith Orloff MD, author of Positive Energy

Amy & Monte are very excited to be a part of
THE ULTIMATE SOULMATE SUMMIT!
Join 26 of the World's Leading Love Experts to Learn
How to Attract Your Soulmate

A group of dedicated experts have devoted their lives to "cracking the code"
to attracting and sustaining DEEP and true love—
the kind of love and partnership your heart most longs for and desires. Participation is FREE!

You'll learn first-hand from experts like Dr. John Gray, Debbie Ford, Neale Donald Walsh,
Dr. Helen Fisher, Gay & Kathlyn Hendricks, Katherine Woodward Thomas,
Alison Armstrong, Christan Carter and more.
Finally take the guess work out of finding a SOULMATE!

Discover a simple series of proven steps to attract a loving, committed, sacred partnership.

Learn these time-tested secrets from 26 of the world's top experts without paying a dime.
Amy & Monte are authors of
THE SOULMATE PATH:
Find the Love You Want & Strengthen the Love You Have
and they look forward to being with you at the
Ultimate Soulmate Summit!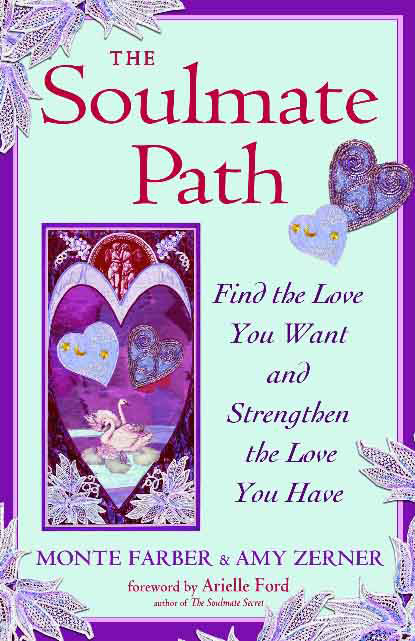 "In the soulmate couple Hall of Fame you will find Amy Zerner and Monte Farber, two people who know how to love like there is no tomorrow."
-- Arielle Ford, author of The Soulmate Secret
Check Monte & Amy out on:





Become our friend, follow us and make a magic community of
like-minded people —a powerful force to create and share positive energy.
Please feel free to forward this newsletter to anyone you think would enjoy
learning about what The Enchanted World has to offer.
We always welcome you to use our free and easy-to-use online
Enchanted Tarot, Astrology, and Alchemy readings
along with obtaining your Daily Affirmations.

Wishing you love, light, and laughter always and all ways,

AMY & MONTE


PRIVACY POLICY: Our privacy policy is simple. We will never sell, lend, or otherwise share youremail address
(or any other information you give us if you become a Member of the Enchanted World) with anyone andwe will do
everythingreasonably within our power to protect it.