About Us

About Amy & Monte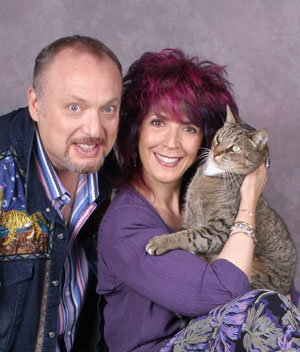 When artist Amy Zerner met author Monte Farber in 1974, an enchanted relationship was formed. Since 1988, they have shared their unique brand of life mastery and artistic excellence with their readers in the more than two million copies of their unique, award-winning works published in fourteen languages. They claim their multi-dimensional relationship as lovers, creative collaborators and successful entrepreneurs can be attributed partially to their application of the intuition building skills and ancient wisdom they have studied before and during their thirty year marriage and friendship, compassion and a sense of humor comprise the other part.

Monte: "I once asked Amy what she thought was the common denominator of all problems caused by human beings and she replied without hesitation 'poor decision making.'"

Since these legendary lovebirds believe that the common denominator of most of everyone's problems is poor decision making they've combined Amy's NEA award-winning fabric collage tapestries with Monte's words to create a unique line of executive decision-making tools based on the intuition-building techniques they discovered are hidden in astrology, tarot, alchemy, The Goddess, shamanism and talking boards, making these useful but misunderstood tools for developing one's decision making ability available to a mainstream audience - and they are succeeding!

In all their work, the power of Amy's incredibly beautiful National Endowment for the Arts award-winning fabric collage tapestries are combined with Monte's words to create a unique and sacred synergy that heals, inspires, and empowers. In their work and workshops, they share with their audience the kindness, good humor, and deep wisdom that has enabled them to find love, spirituality, contentment and genuine success in their enchanted lives.

Amy and Monte's expertise and straightforward but lighthearted approach to oracular wisdom has enabled them to become the first people in history to sell a metaphysical product, The Instant Tarot Reader book and card set, on national television (QVC and The Home Shopping Network). As Monte puts it, "We take our subjects seriously, but we don't take ourselves seriously. We make it fast and fun." .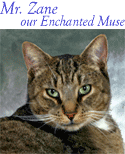 Her wearable fantasy art fashions, which she has dubbed Spiritual Couture™, are sold by Bergdorf Goodman in New York City and by select Neiman Marcus stores. Her work is in the collections of numerous corporations and prominent individuals like Dame Elizabeth Taylor, Patti LaBelle, Shirley MacLaine, Oprah, Martha Stewart, Goldie Hawn and Michael J. Fox.

Amy and Monte have been guests on morning shows like ABC TV's Eyewitness News Sunday, FOX TV's "Good Day" New York, L.A., Atlanta, and Detroit. They were profiled on the nationally syndicated B. Smith With Style TV show and Monte has also appeared on Cinematherapy on Women's Entertainment Televison. 2009 brings this Cosmic Couple's interactive oracles to MyLifetime.com, an exciting partnership.

In addition Amy and Monte have been reviewed and interviewed by newspapers and magazines across the United States. The Sunday New York Times published a feature article praising their unique and powerful approach, the quality of their prodigious output, and their mainstream success.

Every Barnes and Noble store now features an Enchanted World shelf full of Amy & Monte's spiritual power tools - check it out!